Blog
Exhibitions
Researcher
Reflections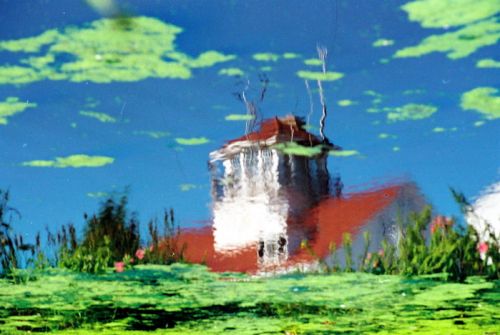 Slime for Clouds
"Slime for Clouds" is the first dream I had in advance of taking the picture. It was also the first dream I ever had that was just an image -- no story, no narrative of any kind, just an image that included two green clouds above a familiar seascape. The dream made no sense until one day, a few months later; I was shooting a picture of the Coast Guard Station reflected in a pond that had algae floating on top. The algae formed two perfect clouds that swam into my lens. I later recognized them from my dream but I took the picture when the red roof turned to velvet against my skin and the white shingles felt as soft as Santa's beard. This image is included in Patricia Lynn Duffy's wonderful book

Blue Cats and Chartreuse Kittens.
To inquire about this photograph, please click here.